What We Do
Our objective is to work with and for our clients on an individual basis. Some clients chose to work with us for all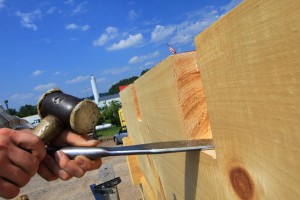 aspects of design while others chose to work with their own designers or architects. Either approach is encouraged by us as we welcome the opportunity of working with other professionals on projects. We can provide timely estimates on your pre-drafted and submitted plans at no cost.
Upon acceptance of the Quotation, the crafting of the log shell is then commenced at our building facilities. Upon completion, the log shell is disassembled and prepared for shipping. We provide our own crew for reassembly on your site to ensure that quality is maintained throughout your project. In fact, we do not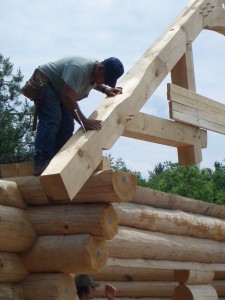 provide log work for assembly by others, but insist on having the same craftsmen that handcrafted each log structure reassembling. Penny and Tim participate in the reassembly of each and every home as further reassurance for our clients.
As Custom Design Builders of Handcrafted Log & Timber Homes our costs compare favorably with other custom built homes. Due to our geographical diversity costs vary considerably from region to region. For estimating purposes, log work is in the $50-$80 square foot range with completed homes starting at $200.00 /sq/ft. including log work. Our quotations are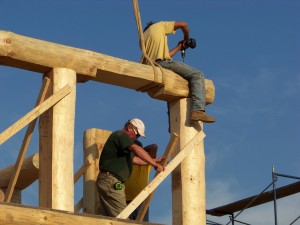 inclusive. All projects are quoted as delivered and assembled by our crew for a fixed price. The only extra cost to the client above the fixed price would be the cost of renting a locally owned and operated crane for the reassembly of the log shell on their prepared building site.Our "state of the art" band sawmill can provide you with one-of-a kind mantles, beams and boards. Need a 24″ wide board or 50' long beam?